Justice and Mae's Story
Mae's Photo COMING SOON !
In 2004 Mr. Brian and Sarah Mercers 2 American pit bull terriers were impounded by animal control and was 3 days from being put down the Mercers raising these Animals from puppies were heart broken of Animal Controls decision to have the dogs euthanized there decision was based on the dogs actions they had killed 2 cats in the neighborhood and was deemed aggressive however neither one of the dogs posed any aggression towards people nor children. The Mercers contacted the GREYLINE MESSAGE BOARD and BLUE NATION KENNELS operated at the time by Bully, Rosemary, and associates
All agreed the only solution to possibly getting these dogs back was to contact ALL BEEF KENNELS Owned and operated by me.
After contacting the King County Animal Control in Washington they were not about to give up these animals without a fight I reviewed the laws and the city ordinance in King County and immediately put that knowledge to work I was able to have the Euthanized date cancelled and after flooding the Mayors office, King County Animal Control, and the City Attorneys office with over 291 signatures demanding for the immediate release of these dogs King County Animal Control release the dogs into my custody and I had the dogs Flown from King County Washington to Moreno Valley California, after King County Animal Control verifyed that I am in Excellent standings with the Animal Control in my city, My City Animal control supervisor also told King County Animal control Officer Williams that when Victoria which is myself
wants a dog released she will make every legal effort to get that dog and told of her personal experience with me when it came to Juice
to read about Juices Story go to the home page and click the link.
When Justice and Mae arrived in Moreno Valley Brian Mercer the dogs owner sent over Justices UKC paper work I was surprised to learn that he was from Immortal Pits Bloodline and that his name was in fact
IMMORTAL'S UNFORGIVING JUSTICE
I immediately contacted the GREYLINE MESSAGE BOARD requesting for a trainer for Justice and a wonderful trainer Joyln Crisps contacted me and agreed to train Justice and find an excellent home for Mae.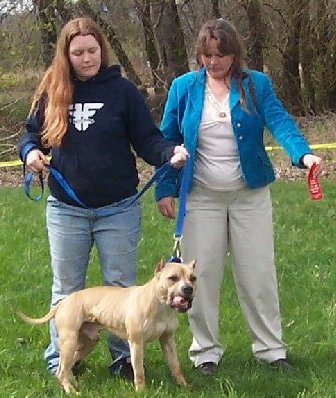 In 2005 Justice became AAPBA CHAMPION and therefore I had Justice named changed from Immortals Un forgiving Justice
to ALL BEEF KENNELS IMMORTALS FORGIVEN JUSTICE
for God has forgiven this beautiful boys transgressions and have givien him another chance.
In August 2007 Mr. and Mrs Mercer moved out of King County Washington and In September 2007 I Victoria Faciane from
All Beef Kennels reunited The Mercers with there Beloved Now
UKC PR' AAPBA CHAMPION TITLED ALL BEEFS IMMORTALS FORGIVEN JUSTICE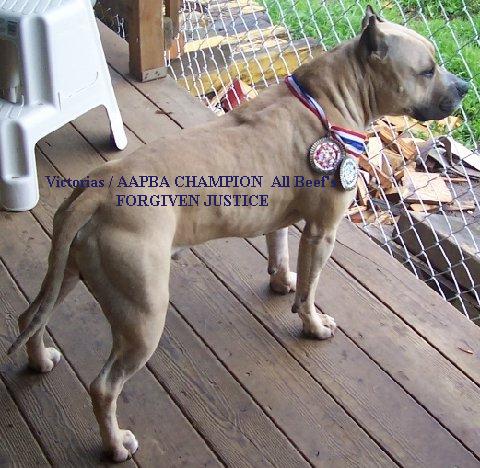 Victoria's Blue Bulldogges
also known as
All Beef Kennel's
FIGHT FOR THIS BREED AND WE WILL KEEP ON FIGHTING