---



JUICE WAS BORN IN MY KITCHEN AND WAS NAME AFTER MY JUICE MAN 2. I SOLD HIM WHEN HE TURNED 1 1/2 YEARS OLD , THE GUY I SOLD HIME TO HAD OTHER ANIMALS , BUT I DIDNT KNOW HE HAD 5 TOTAL WHICH WAS OVER HIS LIMIT IN THE FIRST PLACE. THE GUY LIVED IN A VERY NICE HOME IN WHICH I INSPECTED AND HE WAS VERY NICE AND HE LOVED JUICE BUT HE WAS RARELY HOME I FOUND OUT LATTER . ABOUT 1/2 MONTH LATTER IN THIS GUYS POSESSION THE ANIMAL SHELTER TOOK ALL THIS GUYS DOGS AND JUICE RIGHT ALONG WITH THEM. THE GUY CALLED ME RIGHT AWAY AND I WENT TO TALK TO THE
ANIMAL SHELTER AND THEY SAID THE GUY KNOWS WHAT TO DO TO GET HIS DOGS BACK . I TOLD THE GUY IF HE COULDNT GET JUICE OUT THAT I WOULD GET HIM MY SELF, I LEFT MY HOME AND MY CELL WITH THE ANIMAL SHELTER AND A FEW DAYS LATTER THE GUY CALLED AND SAID HE GOT ALL BUT 1 BLUE MALE OUT BECAUSE HE COULDNT AFFORD TO PAY HIS HOUSING COST SO THEY PUT HIM DOWN WHICH WAS MESSED UP. BUT HE SAID HE HAS JUICE I SAID EXCELLENT. A FEW 5 WEEKS AFTER THAT JUICE APPARENTLY HAD GOT OUT OF THE YARD AND WAS ROAMING WITH THE GUYS BLUE FEMALE SEARCHING FOR FOOD AND DRINKING WATER FROM THE GUTTER, THE BLUE FEMALE HAD JUST HAD PUPS
---

AND THE GUY KEPT THEM IN THE GARAGE. I WAS NOTIFIED BY CHIEF ANIMAL CONTROL THAT JUICE HAD GOTTEN OUT ONCE AGAIN, AND THIS TIME HE HAD ATTACKED A CHILD" AND THAT THIS TIME THE ANIMAL SHELTER IS DEMANDING FOR A COURT ORDER FOR THE IMMEDIATE DESTRUCTION OF JUICE, AND SHE ( CHIEF ANIMAL CONTROL )DECIDED TO LET ME KNOW THIS AT 6AM IN THE MORNING EVEN THOUGH THE ANIMAL SHELTERS BUISNESS HOURS ARE FROM 10 AM - 6:30 PM. I SAID IF JUICE HAS DONE SUCH A THING THAT I WILL NOT FIGHT IT BUT WILL ALLOW HIM TO BE PUT DOWN , BUT JUICE WOULD NEVER EVER DO SUCH A THING BECAUSE THAT DOG WAS RAISED AROUND CHILDREN AND AROUND CATS AND OTHER DOGS SO I KNOW HE DIDNT DO THAT , CHIEF ANIMAL CONTROL SAID WELL HE DID.
---

AND I ASK HER CAN I SEE HIM SHE SAID YES. I WAITED UNTIL OFFICE HOURS AND SAW JUICE , JUICE WENT FROM A HEALTHY 70.5LBS TO 45LBS I WAS HORRIFIED I SAID WHAT THE HELL HAVE YOU GUYS DONE TO MY DOG THEY SAID NOTHING HE CAME IN LIKE THAT . JUICE HAD BEEN IN THERE FOR ABOUT 1 1/2 MONTHS HE KEPT CRYING AND YELLING AND HOWLING I WAS SHOCKED HE HAD MANGE AND TICKS I SAID SOMETHING IS WRONG WITH MY DOG, THEY REMINDED ME THAT THE DOG DIDNT BELONG TO ME AND FORBID ME FROM SEEING HIM AGAIN. THE GUY I GAVE HIM TO FINALLY CONTACTED ME AND I LET HIM KNOW I DIDNT
APPRECIATE THE CONDITION OF MY DOG AND THE I WAS TOLD HE HAD ATTACKED A CHILD BY CHIEF ANIMAL CONTROL THE GUY SAID THE CHIEF ANIMAL CONTROL OFFICER IS A LIER AND IM GOING TO A MEETING TODAY AND WILL BE TALKING TO THE CITY MANAGER AND YOU CAN COME IF YOU WANT . SO NATURALLY I WENT WE SAW JUICE AND THE MANAGER OF THE CITY SAID WE HAVE HAD EVALUATORS COME TO LOOK AT HIM AND THEY ADVISE EUTHINIZATION AND SO THAT IS WERE WE STAND I SAID I WAS CALLED BY YOUR CHIEF ANIMAL CONTROL OFFICER AND SHE SAID JUICE HAD ATTACKED A CHILD AND THE CITY MANAGER SAID NOT TO HIS KNOWLEDGE THAT WASNT THE CASE AND HE REQUESTED CHIEF ANIMAL CONTROL TO JOIN THE MEETING AND I ASKED HER TO HER FACE AND SHE FLAT OUT LIED AND SAID SHE DONT RECALL, I WAS FURIOUS
---

I LOOKED AT HER INFRONT OF HER PIERS AND SAID YOU ARE A LIER. AND THE MANAGER WAS TOLD BY THE CHIEF ANIMAL CONTROL OFFICER ASWELL THAT THE NEW OWNER OF JUICE EVEN ATTEMPTED TO OPEN UP THE CAGE AS TO FREE HIM, AND SHE DENIED THAT AS WELL RIGHT INFRONT OF THE CITY MANAGER WHOM SHE HAD TOLD SUCH A LIE TO . I ASKED IF HE DIDNT ATTACK A CHILD THEN WHY AND FOR WHAT REASON IS HE BEING EUTHINIZED ? THEY SAID BECAUSE HE IS VICIOUS WITH OUT CAUSE AND THAT HE ATTEPTED TO BITE THEM THROUGH THE CAGE , I SAID THERE IS SOMETHING WRONG WITH HIM AND DEMANDED THAT THEY HAVE HIM CHECKED BY A VET IMMEDIATELY, THE NEW OWNER AGREED WITH ME ASWELL AND DEMANDED THAT JUICE BE GIVEN A FULL PHYSICAL, AND THEY REFUSED SITEING THAT THERE WAS NO JUSTISFIED REASON TO CONSIDER SUCH A REQUEST AND SAID THAT THE DOG WAS JUST PLANE VICIOUS, AND OF COURSE THEY DIDNT LISTEN TO ME. I CALLED UP THERE EVERY DAY AND WAS REMINDED THAT I AM NO LONGER HIS OWNER AND THAT THEY DIDNT HALF TO RELEASE ANY INFORMATION TO ME, SOME TIMES WHEN I CALLED I WAS RUDELY HUNG UP ON BY A PARTICULAR WOMAN. I FELT HOPELESS AND SAD EVEN WHEN I SHOWED THEM THE CONTRACT IN WHICH THE NEW OWNER SIGNED IN THE EVENT HE CAN NO LONGER CARE FOR JUICE THAT HE LOSES ALL RIGHT TO HIM AND THE IMMEDIATE RETURN OF JUICE IS REQUESTED, THEY STILL WOULDNT ALLOW ME TO SEE JUICE ANY MORE.
---
AND WITH A 10 TH GRADE EDUCATION WHAT COULD I DO ? WHO COULD I TURN TO ?I COULDNT AFFORD A LAWYER BECAUSE THEY WOULD'NT HAVE TAKIN THE CASE DUE TO JUICE'S BREED APBT. SO I PRAYED TO GOD , I TOLD MY FATHER GOD THAT IF HE WOULD HELP ME GET JUICE BACK I WOULDNT PERSUE THE ISSUE AND AFTER WEEKS PAST, I PURCHASED A CITY ORDANACE BOOK , AND DOWNLOADED THE CALIFORNIA STATE LAW , AND OBTAINED A COPY OF THE PUBLIC RECORDS ACT OF CALIFORNIA AND EDUCATED MY SELF WITH A FULL BLOWN CRASH COURSE.
AFTER A STRAIGHT 2 WEEKS I LEARNED THAT APBT OWNERS HAVE MORE RIGHTS THEN THEY WANT US TO ACTUALLY BE MADE AWARE OF, AND WITH THAT KNOWLEDGE I WAS READY FOR ANYTHING. I PUT PACKETS TOGETHER TO DROP OFF TO THE MAYORS OFFICE OF MY CITY AND TO ALL THE CITY COUNCILMAN AND ALL I NEEDED WAS A CURRENT PICTURE OF JUICES CURRENT STATE SO I BOUGHT AN INSTANT CAMERA AND SENT THE OWNER OF JUICE IN TO TAKE A PICTURE OF HIM SINCE I WAS FORBIDEN TO SEE HIM ONCE THE GUY SNAPPED THE PICTURE ANIMAL CONTROL SUPERVISOR PROTESTED AND THE NEW OWNER SAID I DONT NEED YOUR PERMISSION TO TAKE A PHOTO OF MY OWN DOG AND WALKED OUT.
---
---
WE GOT THE PICTURES DEVELOPED AND SENT COPYIES ALL OVER CITY HALL AND ALL THE MEMBERS IN OFFICE , THE NEW OWNER TOLD ME OF A COUNCILMAN WHO HATES PIT BULLS AND MADE A COMMENT TO HAVE THEM BANNED FROM THE CITY AND THAT HE HAD BEEN CALLING ANIMAL CONTROL ON HIM AND HIS DOGS SINCE HE MOVED IN, I SAID THE COUNCILMAN LIVES IN THE NEIGHBORHOOD ? AND THE NEW OWNER SAID YES, I SAID OK I WILL SEE IF I CAN SPEAKE WITH HIM I LEFT SEVERAL MESSAGES BUT I NEVER GAVE UP.
BOTH THE COUNCILMAN AND THE MAYOR CALLED ME ON THE SAME DAY AT DIFFERENT TIMES. THE COUNCILMAN TOLD ME THAT HE HAD ATTEMPTED TO GET THE APBT ERRATICATED / DESTROYED BUT THAT BILL DIDNT PASS, THEN HE SAID HE ATTEMPTED TO HAVE THEM BANNED OUT OF THE CITY AND ONLY OWNED BY INDIVIDUALS WITH NO CHILDREN AT RISK AND HE SAID THAT FELL THROUGH AND DEMANDED TO KNOW WHY WOULD I WANT SUCH A VICIOUS BREED I SAID SIR NO DISRESPECT, BUT IF A WHITE MAN BRUTALLY KILLS ANOTHER WHITE MAN WE CAN JUST DESTROY THE BREED ? AND IF A BLACK MAN KILLS A BLACK MAN LETS JUST ERRATICATE THEM ALL BECAUSE THEY ARE ALL EVIL RIGHT ? THE COUNCILMAN SAID HE WOULD TRY TO HELP BUT I DIDNT BELIEVE HIM BECAUSE AS SOON AS THE COURT HEARING CAME
---
HE WAS ON THE SIDE OF ANIMAL CONTROL USING HIS POSITION TO HAVE JUICE DESTROTED I WAS NOT EVEN INVITED TO THE HEARING EXCEPT BY THE GUY WHO CURRENTLY OWNED JUICE AND I MADE IT KNOWN IN COURT TO THAT JUDGE WHO I WAS, WE HAD NO LAWYER AND THE ANIMAL CONTROL CHIEF HAD BOTH CITY ATTORNEYS PRESENT TO FIGHT FOR THE DESTRUCTION OF JUICE. AFTER LEARNING STUDYING THE LAWS I DID SOMETHING THAT SHOCKED AND PISSED OFF BOTH CITY ATTORNEYS AND THE COUNCILMAN HIMSELF I REQUESTED A CONTINUANCE IN WHICH THE JUDGE GRANTED AND WITH THAT IT POST PONNEDED THE DESTRUCTION OF JUICE FOR 1 MONTH UNTIL I FIGURED OUT WHAT GOD WOULD HAVE ME DO NEXT.
THE VERY SAME DAY I WENT TO THE ANIMAL SHELTER AND DEMANDED TO SEE JUICE AGAIN I WAS REMINDED THAT ONLY THE OWNER CAN SEE HIM ( I KNEW THEY WOULD SAY THAT ) AND I SAID ACCORDING TO SECTION 6230 OF THE PUBLIC RECORDS ACT I HAVE THE RIGHT TO INSPECT ANYTHING AND ALL FILES WITHIN THIS FACILITY DUE MY RIGHT BY LAW AND THEY SAID WE WILL NEED TO SPEAKE WITH THE CITY ATTORNEY AND I SAID FINE AND SO THEY DID AND I WAS ESCOURTED BACK TO SEE JUICE.
---
HIS CONDITION HAD WORSEN EVEN THINNER AND MORE MANGE AND HIS FOOD BOWL STAYED EMPTY IT WAS AS IF THEY WERE STARVING HIM TO PRESENT HIM AS TO BE VICIOUS AND I SAID HAD THIS DOG BEEN SEEN BY A VET AND WAS TOLD THERE IS NO REASON FOR HIM TO BE SEEN I SAID I WANT HIM SEEN BY A VET IMMEDIATELY BUT AGAIN THEY DIDNT COMPLY WITH MY REQUEST. I WENT UP TO THE DESK AND I DEMANDED ALL RECORDS OF ACCOUNTS ON THE FIELD WITHIN THE PAST 6 MONTHS TO THIS DATE UNALTERED IN PLAIN READABLE TEXT DUE ME BY LAW, AND I WAS TOLD THAT THEY MUST CONSULT THE CITY ATTORNEY AND I SAID I WILL WAIT AND THE CITY ATTORNEY SAID UNDER WHAT ACT ? I SAID UNDER PUBLIC RECORDS ACT SECTION 6252 AND IF MY REQUEST IS DENIED" THEN ACCORDING TO PUBLIC RECORDS ACT 6252 - 6253 - I WANT THE NAME AND POSITION HELD BY THE INDIVIDUAL WHO DENIED MY REQUEST AND A SPECIFIC IN FULL DETAIL OF WHY MY REQUEST WAS DENIED. AND THE CITY ATTORNEY TOLD CHIEF ANIMAL CONTROL AND THE ANIMAL CONTROL SUPERVISOR TO GRANT MY REQUEST FOR IR IS MY PUBLIC RIGHT,
---
I WAS TOLD THAT THEY WOULD HALF TO COPY 10,000 REPORTS TAKIN JUST FOR ONE DAY ALONE , I SAID : I DONT CARE AND I DO NOT WANT YOU TO CONTACT ME FOR ANY REASON OTHER THEN MY REQUEST AND OR IF SOMEONE COMPLAINS TO YOU ABOUT THE DOGS CURRENTLY IN MY YARD , IS THAT UNDERSTOOD ? AND SAID YES, AND I LEFT MY REQUEST IN WRITTING AND MADE SURE THEY STAMPED DATE EVERYTHING AND GAVE ME A COPY JUST INCASE STUFF JUST COME UP MISSING AT THE OFFICE WHICH BUYS THEM MORE TIME.
A FEW DAYS LATTER I WAS NOTIFIED BY THE SUPERVISOR OF ANIMAL CONTROL ON THE PHONE THAT THERE WILL BE A FEE FOR EACH COPY AND I TOLD HER I DONT CARE AND SHE SAID CAN I COME IN AND SIT AT A DESK TO VIEW A MICRO FISH AND TO DOWNLOAD WHAT I WANTED AND THAT WAY IT WOULD BE EASIER FOR THEM I SAID NO ! YOU DIDNT MAKE IT EASIER FOR ME WHY SHOULD I MAKE IT EASIER FOR YOU ? I WANT THAT INFORMATION AND YOU HAVE 1 WEEK TO CMPLY.
---
2 DAYS LATTER WHILE I WAS AWAY DOING AIRENS, I CAME HOME TO FIND AND OFFICER FROM ANIMAL CONTROL INFRONT OF MY HOME AND I SAID DO YOU HAVE THE DOCUMENTS IN WHICH IVE REQUESTED ? AND SHE DIDNT KNOW WHAT I WAS TALKING ABOUT AND I CALLED ANIMAL CONTROL SUPERVISOR ON MY CELL PHONE OUTSIDE AND WAS FURIOUS I SAID : YOU ARE VIOLATING MY CONSTITUTIONAL RIGHTS WHICH IS INVASION AND WHY IS THIS OFFICER HERE ? HAVE SOMEONE CALLED ON MY DOGS ? ANIMAL CONTROL SUPERVISOR SAID NO . I SAID THEN WHY IS SHE HERE ? SHE ASKED ME DID I GET THE LETTER IN WHICH SHE WAS ASKED TO DELIVER I SAID I AM NOT EXCEPTING ANYTHING FROM YOU NOR YOUR OFFICE OTHER THEN MY REQUEST OR A BARKING DOG COMPLAINT SHE INSISTED THAT I AT LEAST LOOK AT THE LETTER I SAID NO ! AND SHE THE SUPERVISOR WHOM I SPOKE TO OUTSIDE ON THE PHONE WHILE THE OFFICER WAITED FOR INSTRUCTIONS TOLD ME AGAIN THAT IT WILL COST ABOUT $1000 FOR ME AND IF IM WILLING TO PAY
---
THAT MUCH THEN TO PICK UP THE PAPER WORK I SAID : O IS THAT ALL ? HOLD ON" I WALKED UP TO THE OFFICER AND ASKED HER HOLD OUT HER HAND AND WHEN SHE DID I COUNTED OUT $1000 CASH INTO THE PALM OF HER HANDS AND ASKED HER TO TELL HER SUPERVISOR OVER THE PHONE, ONCE SHE TOLD HER HOW MUCH IT WAS I GOT BACK ON THE PHONE WITH THE SUPERVISOR AND I SAID : COOL THAN IM ON MY WAY AND THE SUPERVISOR STOPPED ME AND SAID WE HAVE A FEW READY BUT NOT ALL OF WHAT I HAD REQUESTED" I SAID: THEN WHY THE HELL ARE YOU PLAYING GAMES WITH ME ? THIS ISNT A JOKE I WILL DO EVERYTHING IN MY POWER THAT IS LEGAL TO DO IN ORDER TO GET MY DOG BACK AND THE MESS YOU GUYS PULLED WITH JUICES CURRENT OWNER WAS ILLEGAL,
AND SHE ASKED ME WHAT WAS I TALKING ABOUT I TOLD HER THAT I STUDIED THE CITY PENAL CODES AND THE CALIFORNIA STATE LAW AND THE DECLARATION OF INDEPENDANTS AND YOU GUYS VIOLATED ALOT OF HIS RIGHTS,
#1. ..... LIKE WHEN YOU GUYS CAME TO HIS HOUSE AND DEMANDED FOR HIS DOGS, HE COULD HAVE ASKED DID YOU HAVE A SEARCH AND SEIZURE WARRANT DUE TO THE CITY ORDINANCE BEING UNDER SUBJECT OF THE DECLARATION OF INDEPENDANCE AND THE CALIFORNIA STATE LAW AND YAW COULDNT HAVE TOUCH LAID HOLD NOR REMOVE NOTHING OR YOUR AGENTCY WOULD HAVE GOTTEN SUED.
---
#2. .... AND WHEN YOU SAID HIS DOGS WERE ALSO REMOVED BECAUSE THEY WERE UNLICENSED. HE COULD HAVE TOLD YOU THAT HE HAD 30 DAYS TO COMPLY AND YAW COULD'NT HAVE REMOVED THEM ON THE GROUNDS OF HARBORING AN UNLICENSED ANIMAL.
---
#3. ..... AND WHEN YOU PUT HIS BLUE PIT BULL MALE DOWN WHEN HE REALLY WANTED THE DOG BUT COULD'NT PAY, THE CHIEF ANIMAL CONTROL WAS SUPOSE TO GIVE HIM THE OPTION OF A CITE RELEASE, WHICH IS ACCORDING TO THE CITY ORDINANCE IN WHICH IT SAYS THAT A DOG RECOVERED / IMPOUNDED BY ANIMAL CONTROL WILL BE HELD FOR NO LESS THEN 10 IN WHICH THE OWNER OF THE ANIMAL HAS TO CONTACT ANIMAL CONTROL IN SEARCH OF HIS / HER LOST OR STOLEN PET IN ORDER TO RETRIEVE THE ANIMAL OR THE ANIMAL RECOVERED / IMPOUNDED WILL BE EVALUATED FOR EITHER BEING PLACED FOR ADOPTION OR IMMEDIATE DESTRUCTION. AND IF THE OWNER IS LOCATED AND WISH TO RETRIEVE HIS POSSESION / ANIMAL AND IS UNABLE TO PAY THEN THE ANIMAL SHALL BE RELEASED TO THE OWNER AND THE ANIMAL SHELTER SHALL WRITE A CITATATION IN WHICH THE OWNER HAS 30 DAYS TO PAY ALL SHELTER AND BOARDING CARE APPLIED OR THE DOG MAY BE IMPOUNDED ONCE AGAIN AS A PUBLIC NUSIANCE OR THE OWNER FINED FOR FAILURE TO COMPLY OR BOTH.
---
AND NO ONE TOLD JUICES OWNER THAT., AND HE LOST HIS BLUE APBT, BECAUSE YOU GUYS ARE SCARED OF THE COUNCILMAN WHO LITTERALLY TOLD ME ON THE PHONE THAT IF THE GUY GOT HIS DOG BACK THAT HE WOULD SUE THE ANIMAL SHELTER.
---
I AM NOT GONNA JUST GO AWAY I WILL FIGHT YOU GUYS AND I WILL LET EVERYONE KNOW HOW BAD YOU GUYS TREATED JUICE WHILE HE WAS IN YOUR CARE AND I DONT WANT TO HEAR ANYTHING OTHER THEN YOU HAVE THOSE DOCUMENTS WAITING FOR ME TO PICK UP IS THAT CLEAR ? AND SHE SAID : YES , AND I SAID TO THE OFFICER STANDING BY TO SMILE CAUSE I NOW HAVE YOU AND MY WHOLE CONVERSATION ON SURVALENCE CAMERA BECAUSE YOU SEE MY PROPERTY IS 24 HOUR SURVALENCED SO NOW YOU KNOW SO NOW YOU CAN LEAVE AND SHE LEFT AND AS FOR THE SUPERVISOR I HAD ON THE PHONE I SAID: DO NOT SEND YOUR OFFICERS OVER HERE TO DELIVER PERSONAL LETTERS FROM YOU TO ME AND THE ONLY LETTER I WANT FROM YOU IS THAT YOU ARE GONNA GIVE ME BACK MY DOG OR THAT YOU HAVE COMPLETED MY REQUEST AND YOU HAVE 4 DAYS TO COMPLY WITH MY WRITTEN REQUEST AND I HUNG UP.
---
2 DAYS LATER AFTER THE ABOVE CONVERSATION TOOK PLACE BETWEEN ME AND THE ANIMAL SHELTER SUPERVISOR OVER THE PHONE, THE SUPERVISOR OF ANIMAL CONTROL CONTACTED ME AND SAID : WE WILL RELEASE JUICE INTO YOUR CARE BUT FIRST WE REQUIER THE CURRENT OWNER TO RELEASE ALL INTEREST IN THE DOG, BY HAVING HIM SIGN A FORM AT THE ANIMAL SHELTER , I SAID : HOW DO I KNOW ONCE HE HAS DONE THAT , THAT YOU WOULD KEEP YOUR AGREEMENT TO GIVE JUICE TO ME ? I TOLD HER I DID NOT TRUST HER BECAUSE OF THE CHIEF ANIMAL CONTROL OFFICER LIEING TRYING TO PLEASE THE COUNCILMAN IN HAVING JUICE DESTROYED , THE ANIMAL CONTROL SUPERVISOR SAID SHE HAD DISCUSSED IT WITH THE CITY ATTORNEY AND THE MAYOR AND THE CITY MANAGERS OFFICE AND THEY ALL AGREED TO RELEASE JUICE INTO MY CARE AND I WAS THRILLED ... I JUST NEW IF IT WOULD SAVE JUICES LIFE THAT THIS GUY WOULD'NT HESITATE
---
AND SO I CALLED HIM UP AND HE REFUSED ..... AND I SAID WHAT ? IN TOTAL SHOCK ,, I SAID HE HAS BEEN LOCKED UP IN THERE FOR 3 - 4 MONTHS NOW AND THEY'VE OFFERED TO RELEASE HIM TO ME ONLY AND YOU REFUSE ? HE SAID I LOVE THAT DOG AND THAT IF THE ANIMAL SHELTER DESTROYS HIM THEN THAT WOULD LOOK BAD ON THEM AND THAT WE COULD SUE THEM FOR THE LOSS OF THE DOG ..... I WAS SHOCKED .... I SAID YOU DONT CARE NOTHING ABOUT JUICE DO YOU ? AND THE GOAL HERE IS TO COME TO A MUTUAL AGREEMENT AND THAT MY GOAL ISNT TO ALLOW JUICES DEATH TO BECOME SOME GET RICH SCAM THANKS TO THE ANIMAL SHELTER, AND HE STILL REFUSED AND SAID : I AND IM NOT SIGNING HIM OVER TO YOU " I SAID : THEN YOU ARE JUST GONNA HALF TO FIGHT ME THEN AND HE SARCASTICALLY TOLD ME TO DO WHAT I HAD TO DO AND I HUNG UP ON HIM.
---
FROM THAT POINT ON THE NEXT DAY I FILED A LAW SUITE AGAINST HIM AND WALKED A COPY INTO THE ANIMAL SHELTER ASKING FOR IT TO BE GIVEN TO THE CITY ATTORNEY AND TO LET THEM KNOW THAT IM SUEING FOR OWNERSHIP OF JUICE AND WHEN I DROPPED OFF A COPY OF THE LAW SUITE PAPERS EVERYONE UP THERE KNEW HE FELL ON THE WRONG SIDE OF THE FENCE . AND THE COURT HEARING IS IN 1 MONTH, AND SO WHEN THE ANIMAL SHELTER APPEARED IN COURT ON THE DECISION OF THE FATE OF JUICE I WAS
THERE 2 HOURS BEFORE THE MATTER WAS CALLED AND THE CURRENT OWNER HAD FAILED TO SHOW UP EVEN WHEN THE JUDGE GRANTED A 5 MINUTE BRAKE GIVING HIM TIME TO SHOW UP AND THE CASE WAS CALLED AND HEARD AND EVEN THOUGH I WASNT ON THE CASE AS JUICE'S OWNER I STILL ASKED TO BE HEARD IN THE MATTER AND I EXSPLAINED TO THAT JUDGE THAT IM SUEING THE NEW OWNER FOR THE RETURN OF JUICE TO MY CARE AND THE JUDGE ASKED THE CITY ATTORNEY HAS THERE BEEN AND AGREEMENT AND THE ATTORNEY SAID YES BUT SHE IS NOT THE CURRENT OWNER AND THE AGREEMENT MADE IS WITH HER IF SHE OBTAINS OWNERSHIP BY THE PERMISSION OF THE CURRENT OWNER YOUR HONOR AND THE JUDGE SAID : I SEE AND HE GRANTED ME PERMANANT OWNERSHIP OF JUICE AND ASKED HOW HIGH ARE THE FEES AND THE ANIMAL CHIEF OFFICER SAID ABOUT $600 -$700 AND THE JUDGE SAID GEE THATS HIGH BUT IF YOU WANT HIM AND WILL COMPLY WITH ALL RESTRICTIONS THEN I ORDER FOR THE IMMEDIATE RELEASE UPON COMPLIANCE. AND I PRAISED GOD AND THANKED THAT JUDGE AND RANNED OUT OF THERE IN FULL SHOCK WITH TEARS IN MY EYES....... AND WHO DID I SEE COMMING THROUGH THE DOOR AFTER THE DECISION HAD BEEN PASSED DOWN ? JUICE'S OLD OWNER, I CAME BACK AROUND AND WENT BACK INTO THE COURT ROOM TO FIND HIM WAITING TO HEAR A CASE THAT WAS.
---
ALREADY HEARD AND DECIDED TO LEAN OVER TO LET HIM NO THAT HE WAS NO LONGER JUICES OWNER AND THAT THE JUDGE GAVE JUICE BACK TO ME IN THIS COURT ROOM AND I LEFT AND HEADED STRAIGHT UP TO THE ANIMAL SHELTER AND PLACED A BLOCK ON JUICES VISITATIONS ACCORDING TO CALIFORNIA STATE LAW, AND REQUESTED THAT AN INSPECTION OF MY YARD BE MADE AND AN OFFICER CAME OUT AND PASSED IT ON THE FIRST EXAMINATION AND I WAS GIVEN A BILL THAT SAID : $252. I SAID : IS THIS RIGHT ? JUICE WAS HERE FOR 4 MONTHS SINCE OCTOBER 31, 2002 AND THEY SAID : THE COST WAS DECREASED AND I THOUGHT TO MY SELF HMMMMMM I WONDER WHY ? ( BUT DEEP DOWN INSIDE I KNEW WHY )
---
I ASKED : DID HE EVER SEE A VET I ASKED ? AND THEY SAID NO , I SAID : I WILL TAKE HIM TO MY VET TOMORROW FOR A FULL EXAMINATION. I FOUND A LETTER WRITTEN BY ANOTHER COUCILMAN IN WHICH I RECEIVED AT THE BEGINING OF MY ORDEAL AND I STUCK IT IN MY PURSE UN-OPENED , WHEN I BOUGHT JUICE HOME HE HAD MANGE AND A VERY BAD SMELL OF DEATH COMMING FROM HIM AND I SCRUBBED HIM FOR 2 HOURS AND THE SMELL STAYED ON HIM , IT WAS DISCOVERED BY ME THAT JUICE HAD FRACTURED HIS TOOTH BEFORE BEING IMPOUNDED BY THE ANIMAL SHELTER APPARENTLY HE HAD GOTTEN IN TO A FIGHT WITH ANOTHER DOG AND SPLIT THE TOOTH STRAIGHT INTO THE FLEASH AND THE TOOTH MILDEWED AND ROTTENED IN HIS MOUTH CAUSING THE SMELL OF DEAD FLESH AROAMING OUT OF HIS MOUTH,
---
---
THE VET WAS SO UPSET THAT HE WROTE A LETTER IN WHICH I DELIVED PERSONALLY TO THE ANIMAL SHELTER THE VET STATED THAT IF JUICE SHOWED OR ACTED OUT AGRESSIVELY IT WAS BECAUSE OF A FRACTURED TOOTH IN WHICH CAUSED UNSPEAKABLE PAIN. AND THAT WAS WHAT WAS WRONG WITH MY DOG. I ASKED THE ANIMAL CONTROL CHIEF TO COME IN MY YARD TO SEE JUICE IN WHICH SHE DID AND I SAID : O YEAH BY THE WAY THIS IS WHAT HE WAS TRYING TO TELL YOU WHEN HE WAS GRAWLING AT YOU SO YOU THOUGHT AND I LIFTED UP HIS JAW TO EXSPOSE THAT DISGUSTING DEAD HANGING CANINE TOOTH AND AS SOON AS I LIFTED HIS JAW FROM WHERE SHE STOOD ABOUT 5 FEET AWAY SHE ( THE ANIMAL CONTROL CHIEF ) COVERED HER NOSE AND SAID THAT IS AWFUL. I TOLD HER I ASKED YOU GUYS TO LET HIM SEE THE VET, YOU GUYS HAVE A VET ON SITE AND HE ALL WHILE HE WAS IN THERE NEVER SAW ONE, AND THAT WAS AGAINST CITY ORDANCE 10.20- (READ THROUGH) CRUELTY TO ANIMALS - PAIN AND TORTURE.
---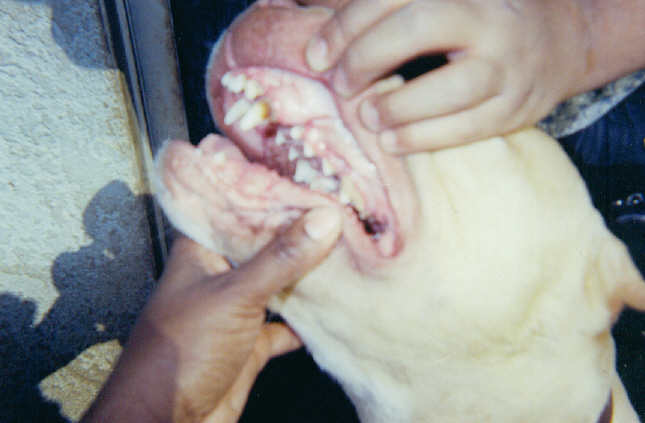 ---
IT COST HUNDREDS OF DOLLARS TO PUT JUICE BACK TOGETHER AGAIN BECAUSE OF THESE PEOPLE NO COMPENSATION WHATS SO EVER OFFERED BY THE CITY WHATS SO EVER OUT OF MERE CONSIDERATION THAT IF I DECIDED TO PERSUE THIS ISSUE LEGALLY NOW THAT THE JUDGE GRANTED IN MY FAVOR THAT THERE WILL BE A FEW LESS CITY OFFICIALS WITH OUT JOBS LET ALONE THE SUITE , BUT I WAS GRATEFUL TO GOD THAT I / HE GAVE ME BACK MY DOG JUICE SLEPT FOR 11 HOURS HIS FIRST DAY BACK HOME AND ONLY ATE 1/2 CUP A FOOD EACH DAY THIS DOG IS 18inches TALL AND EATTING ONLY THIS SMALL AMOUT THAT MADE ME SO MAD AT THE ANIMAL SHELTER FOR STARVING MY DOG LIKE THAT , WHEN I TRIED TO FEED HIM A LITTLE MORE HE WOULD THROW IT ALL UP I FELT SO SORRY FOR HIM , HE WEIGHED ABOUT 45 - 50 LBS WHEN WE GOT HIM BACK HE HAD LOST A SHOCKING 25LBS , JUICE WAS IMPOUNDED ON - 10/31/02 - AND WAS RELEASED ON 2/25/03 SINCE HIS RELEASE JUICE IS HEALTHY AND HAPPY AND WILL STAY WITH US FOR THE REST OF HIS LIFE AND WEIGHS 77LBS. I FINALLY WAS ABLE TO SIT DOWN AND READ THE LETTER IN WHICH THE OTHER COUNCILMAN
---
RESPONDING TO ONE OF THE PACKETS I LEFT FOR ALL OF THE CITY COUNILMANS IN WHICH I POSTED PICTURES OF JUICES CURRENT SITUATION AND HOW HE LOOKED IN DETAIL AND IN PICTURE AND HE WROTE : THE ACUSATIONS ARE SERIOUS ONES AND HE PERSONNALLY VISITED JUICE AND FOUND HIM IN BETTER CARE THEN WHEN HE WAS IN THE CARE OF HIS NEW OWNER AND THAT THE VET HAD THOUROULY EXAMINED HIM AND FOUND THAT HE WAS IN EXCELLENT HEALTH AND THAT HE HAS NOT FOUND NOR SEEN ANY SUCH CRUELTY IN WHICH I ALLEDGED IN MY COMPLAINTS SIGNED COUNCILMAN BLAH BLAH.
---
| | | |
| --- | --- | --- |
| | This Photo takin while Juice was in pounded | Infected, Fractured Canine Tooth, split straight up into the nerve. |